2 days in Florence Itinerary: An Epic Weekend in Florence
Florence is a city everyone needs to visit at least once in their life. It has a special place in my heart as I studied abroad here and have been back more times than I can count. Once you set foot in this Renaissance city, you'll see why most visitors can't seem to get enough! Read my 2 days in Florence itinerary below to make the most of your trip!
2 days in Florence Itinerary: Spend a weekend in Florence
Disclosure: This post contains affiliate links. If you click one of them, we may receive a small commission at no extra cost to you. Also, note that this is a guest post submitted by a contributor. 
Firenze is full of culture, charm, art, fashion, and incredible food. The size and walkability of the city center make a weekend in Florence perfectly doable and enjoyable. This itinerary will take you through the best views in Florence, top sights, restaurants, and museums. 
Don't worry, I've made sure you'll have time to take in the atmosphere, hit a few shops, and leisurely sip your wine as you take in the views and beat of the city.
Continue reading to take all the guesswork out of how to spend a weekend in Florence. Whether this is the only city you're visiting in Italy or if it's one of many on your Italy itinerary, you'll be glad you included Florence. If you're like me, you'll probably be booking a return trip sooner than you think!
Planning a trip to Florence Italy Travel Tips
Here are some important travel tips and information about Florence and Italy in general
2 Day Florence Itinerary
Day 1 of 2 Day Florence Itinerary: Accademia Gallery, San Lorenzo Market, Mercato Centrale, Duomo, and candlelit dinner at the center
Day 2 of 2 Day Florence Itinerary: Uffizi Gallery, Ponte Vecchio, Piazza della Signoria, Via de Tornabuoni, Pitti Palace
The sightseeing map included below
Note that from October through March, on the first Sunday of the month, the state museums are free (Uffizi, Accademia, Bargello, Medici Chapels, Pitti Palace, and surrounding gardens), but they are extremely crowded.
April to October is also a peak tourist season. Regardless of your time of visit do purchase your entry tickets to the museums ahead of time.
Getting to Florence Italy:
When traveling from the USA or Canada, opt to fly to Rome or Milan and then make connections to Florence. Florence is located in the central part of Italy, in the Tuscany region.
You can fly using domestic airlines, by car or public transportation.
If traveling from Europe, you can book a flight to the Pisa Airport 'PSA', and then take a taxi or train to arrive in Florence. Travel time is about 75 minutes.
The Pisa Airport has lots of low-cost flights in and out of the terminals.
Where to stay in Florence Italy
For a short weekend in Florence, we recommend the city centre for your accommodation. This neighbourhood is also perfect for first time travellers to Florence.
You will be at the heart of the medieval city, and can easily access the landmark attractions from here.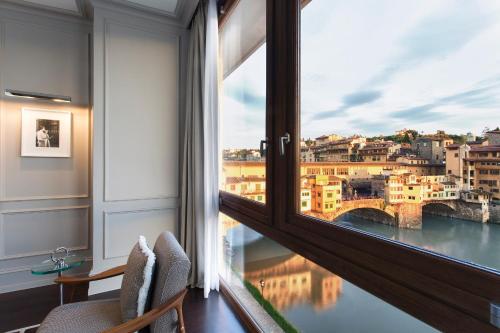 Portrait Firenze – Lungarno Collection: This is a luxury boutique hotel, located in the city centre, offering views of the Arno River and the famous Ponte Vecchio bridge. There is a restaurant on-site here. Click to view photos
Hotel Alessandra: Hotel Alessandra offers more affordable rooms than the previous hotel recommendation. But you can't go wrong with this option due to its location. Plus it is only 250 m from the Uffizi Gallery. Hotel Alessandra is housed inside a 16th-century building. Check out prices and current availability
Looking for more hotels in Florence: Search deals here
Day 1 of 2 days in Florence Itinerary: Accademia, San Lorenzo Market, Mercato Centrale, Duomo, Piazzale Michelangelo for sunset and romantic dinner after
Start your day gazing upon one of the most famous works of art in the entire world – Michelangelo's beloved David.
Morning in Accademia Gallery
Book your visit to the Accademia in advance as days will often sell out weeks ahead of time. Trust me, you don't want to put yourself in a position where you're waiting hours in line in hopes of getting in that day.
Book the earliest time slot available (usually 9:00 am) to not only beat the crowds but also get an early start on the day. Note that most museums in Florence are closed on Mondays, including the Accademia.
Grab a coffee and a light snack at one of the many coffee bars you'll walk by to and from the Accademia. You won't miss them as they're usually filled with locals and tourists standing at the bar sipping on espressos and cappuccinos.
Or go for one of those "Instagrammable" cafes and pop into La Menagere. This newly opened café has the most adorable atmosphere. Prices are higher than a typical Italian café, but it's a great option if you want to take a minute, sit down, read through your guidebook, etc. Try the Nutella croissant, it's my favorite!
Now that you're fueled with Italian espresso, it's time for a sensory overload walk through two markets.
Wander the bustling San Lorenzo Market
Start at the bustling San Lorenzo Market. This is a popular spot to buy souvenirs and leather goods. Be prepared for a few pushy salesmen to call at you as you walk by. Many tourists get annoyed by this, but I just laugh and consider it part of the fun.
Full disclosure, I have never bought anything here nor would I highly recommend it. Unless you have an eye for true quality with leather goods or are just buying a few cheap trinkets…I would shop at the actual shops in Florence instead. If you do buy anything, this is a place to try your hand at haggling the price.
Whether you buy something or not, you must wander the San Lorenzo Market at least once during your stay in Florence! It really is entertaining.
Head to Mercato Centrale next
The next market on the list is Mercato Centrale, an indoor food market with traditional food stalls on the first floor (meat, produce, cheese, etc.) and an Eataly on the second floor.
For those not familiar with the Eataly layout, it's basically a large open space filled with food stations and communal seating. Like a food court, except where the food and drinks are actually really good.
This would be a great spot to grab a quick snack…or another coffee. You'll have your pick of options. Pizza, gelato, coffee, wine, sushi, meats and cold cuts, fresh baked bread, truffles, and more!
Don't get the gelato here because I'm taking you to my favorite gelato spot in Florence later today.
Visit the Duomo
Leave the market and walk towards the river to arrive at the most iconic sight in Florence. The Duomo, also known as the Basilica di Santa Maria del Fiore.
Entrance to the cathedral is free. Paid admission is required for other areas including the climb to the Brunelleschi's dome, Giotto's bell tower, the Duomo Museum (worthwhile), and the Baptistry.
If you have the time (and energy) to climb the dome, I highly recommend it. Not only do you get an inside look of the structure of the dome, but the views of Florence from this height are remarkable.
It's time for a gelato break. La Strega Nocciola is my favorite spot and it's not uncommon for me to visit twice in one day. Try the Buontalenti flavor which is a specialty cream of Florence. The lavender is also very good. Actually…who am I kidding…every flavor is amazing!
If you're gelato obsessed like me, read about the TOP 5 Florence gelato spots!
Trek to Piazzale Michelangelo
Time to burn off your gelato and make the trek to Piazzale Michelangelo. This is the most popular viewpoint to watch the sunset and get some amazing photos of the Florentine skyline.
Hint: if you prefer to visit without the crowds, go at sunrise tomorrow.
Make your way down from Piazzale Michelangelo and take part in the aperitif tradition. A pre-dinner cocktail and snack. Since you've already crossed the river Arno to get to Piazzale Michelangelo, try the Santo Spirito neighborhood for your aperitif.
Piazza Santo Spirito has several bars lining the square. I recommend sitting on the outside patio of Volume.
Candlelit Dinner at Ristorante La Giostra
End your first day in Florence at one of my favorite restaurants in the world. If I died tomorrow, this would be my last meal. I'm 100% serious. Ristorante La Giostra has it all.
A romantic candlelit atmosphere, incredible food and wine, and top-notch service. There's a good chance you'll also meet the owner who you won't forget anytime soon with his quirky personality and the hundred silver bracelets adorning both forearms.
Don't let the romantic atmosphere keep you from dining solo. I've been there multiple times by myself and felt perfectly comfortable enjoying a meal on my own.
Advanced reservations are a must. Order whatever handmade ravioli they have that day. I've had both the pear with ricotta and the pumpkin. Both were divine.
Day 2 of 2 days in Florence Itinerary: Uffizi Gallery, Ponte Vecchio, Piazza della Signoria, Via de Tornabuoni, Pitti Palace, dinner
Start your second day in Florence at one of the most famous museums in the world. The Uffizi Gallery houses the greatest collection of Italian paintings.
Visit the Uffizi Gallery
Gaze upon works by Leonardo, Raphael, Botticelli, and Michelangelo. Like the Accademia, tickets must be reserved in advance. Try to book the earliest time slot (usually around 8:15 am). Two hours should be plenty of time to admire the artwork.
The Uffizi is conveniently located on the Arno river. As you leave the gallery, walk towards the river and turn right.
Now is the perfect time to wander down the Ponte Vecchio…before it gets swarmed by the afternoon and evening crowds.
Capture the beauty of Ponte Vecchio
The Ponte Vecchio is one of the most photographed sights in Florence. The bridge is lined with gold and jewelry shops and makes for a beautiful backdrop.
Once you've walked the length of the bridge, return to where you started and walk back towards the Uffizi. This is where you'll want to take photos of the bridge from afar.
Pro tip: Another option to get the best view of the bridge is to visit Ponte Santa Trinita, and capture the bridge from there.
Piazza della Signoria
After you've filled your memory card with Ponte Vecchio photos, go back through the Uffizi walkway to arrive at Piazza della Signoria. This is one of the grandest squares in Europe complete with an outdoor sculpture gallery, the fountain of Neptune, and a towering medieval fortress (Palazzo Vecchio).
At the entrance of the Palazzo Vecchio you'll see a copy of the David. This is where the original once stood before it was moved indoors for protection.
The square is alive and bustling with energy at all hours of the day. You can visit one of the expensive cafes surrounding the square…or…do what I do. Grab a giant €5 sandwich from All'Antico Vinaio.
The most popular panini spot in Florence with over 22,000 reviews on Google Maps. It's right around the corner from the square. Order your panini (don't forget to add truffle cream) and walk back to the square. If you're lucky, you'll find an empty seat on the carved bench lining the sculpture gallery.
You're close to the main shopping streets, so now is the perfect time for a shopping break.
Explore Via de Tornabuoni
Wander along Via de Tornabuoni for all the hottest designer names or go across the river for boutique shops and artisan workshops.
If you'd rather skip shopping, visit another museum or sight on your list.
Check out the Pitti Palace
The Bargello is a wonderful sculpture museum, the Pitti Palace houses several museums including a Costume Gallery and has exquisite gardens (the Boboli Gardens), the Galileo Science Museum, and the Museum of San Marco featuring works by Renaissance artist Fra Angelico.
These would be my top options depending on your interests.
Dinner at Note di Vino
One aperitif is not enough, so we shall repeat the tradition on our second day in Florence. For something different than yesterday, try Note di Vino. You'll have a view of the Basilica di Santa Croce.
Order a €5 glass of wine paired with a €10 crostini board. Crostini, little toasts topped with an assortment of ingredients from cheese, to pate, or a truffle paste…this is a typical Italian aperitif snack. Take your time and enjoy the atmosphere on this quaint little street.
End your weekend in Florence with a lively dinner at Trattoria Zaza. I first came to Zaza to celebrate my 22nd birthday years and years ago. This place has exploded in popularity since.
I was worried the quality would go downhill with its rise in fame, but it hasn't. My absolute favorite dish is the fresh tagliatelle pasta with a duck ragu truffle sauce. The prices are fantastic and the décor is colorful and quirky.
Reservations are essential. You'll see why the moment you walk up. There will be a massive crowd surrounding the outdoor hostess stand, which feels more like a bouncer at a club determining who gets to enter and who must wait. I'm not at all exaggerating.
If you go for an evening stroll, as I often do in Florence, cross the river one last time and enjoy a late-night gelato scoop at Gelateria La Carraia. They stay open until 12:00 am, so there's no need to rush.
My favorite flavor is the white chocolate pistachio and a one scoop cone will cost a grand total of €1…the same price it's been for the last 15 years or so.
Other attractions in Florence
Here are a few more options for sightseeing in Florence. Feel free to swap any of the above attractions for these,
Santa Maria Novella: Basilica of Santa Maria Novella is a church located close to the central train station. Santa Maria Novella also houses important early Renaissance works of sculpture by Filippo Brunelleschi and Benedetto da Maiano.
Piazza della Repubblica: This is the ancient heart of Florence and is the site of the Giubbe Rosse café where artists met in the early centuries.
Medici Chapels (Cappelle Medicee): Medici Chapels are the twin structures housed in the 15th-century Basilica di San Lorenzo in Florence's historic center. They were built as expansions to the church and are the final resting place of the Medici Family.
Day trips from Florence: Extending your two day Florence trip
Road tripping in Italy, and want to explore more. We have a few recommendations for day trips from Florence.
Cinque Terre from Florence:
You can visit Cinque Terre on a day trip from Florence. It takes 2.50 hours by road. Public transport takes a longer time. So if you are not renting a car, book this day tour with a round trip from Florence and back.
In this long day tour, you will visit the colorful villages of Cinque Terre, and also go hiking to soak in the views of the colorful houses on steep cliffs overlooking the Ligurian Sea.
Stop for lunch at a restaurant terrace in Corniglia with beautiful sea views, and explore local boutiques nearby. This tour also includes a boat ride along the coast.
Tuscany Wine Day Trip
Visit the wine valley from Tuscany on an easy day tour. In this tour, you can explore the medieval architecture of Siena and its gothic-style Cathedral, walk the squares, and the grand towers of San Gimignano.
This day tour also includes a visit to the Leaning Tower of Pisa and other impressive marble monuments in Pisa.
The highlight of the tour is a farmhouse lunch with homemade pasta, cured meats, and local cheeses. – yum!
And the tour ends with a wine tasting of 4 Chianti region wines in a traditional wine estate. Find more information about the tour here
Pisa Day trip from Florence
If the Leaning Tower of Pisa is on your mind, you must pay a visit when you are staying in Florence.
The distance between Florence and the Leaning Tower of Pisa is 69 km or 42.8 miles. The road distance is 90.3 km or 56 miles. So it will take 1 hour and 15 minutes by road.
If you are not renting a car, day tours and trains are an option.
You can take a train and get to Pisa Centrale in about 1 hour and 20 minutes to explore the tower and structures nearby. Costs are 5€ – 12€.
Or you can opt for a day tour of 6 hours. Click here for more information
What to pack for a weekend trip to Florence
Here are some essential items to pack for your trip to Florence,
Anti theft day pack or handbag: Carry a daypack or a hobo to keep your essentials and important documents when you are out and about. We prefer anti theft bags as they are equipped with anti cut and RFID technology. Here is what we recommend – click for the backpack AND here for the handbag.
Universal Adaptor: Buy your adapter here to charge electronics. Italy uses a different power pins (unlike the ones we use here in North America)
Power Bank: To charge electronics on the go. Buy yours here
Comfortable walking shoes: For walking the city center of Florence or for hiking/trekking to scenic viewpoints, carry and wear comfortable walking shoes
Outfits: Flowy dresses, clean cut trousers, shirts/tops, hat
If traveling in the winter, don't forget to carry winter wear like a wool coat, boots, scarf, gloves and a nice warm hat
For off season visits (fall and spring), add a warm cardigan and a scarf
Sightseeing Map with stops for 2 day Florence Itinerary
Additional Travel Tips: Florence Itinerary 2 days
How many days do you need in Florence?
Ideally 3 days in Florence will allow you to experience the city at ease. But 2 days in Florence is still enough to explore the city's highlights – visit 1-2 museums and galleries, shop and dine in one of their amazing restaurants.
Is it expensive in Florence?
Florence is not as expensive as the capital city of Italy – Rome or Milan for that matter. It is possible to explore Florence on a budget. 3 star hotels and hostels with private rooms are available at $65 USD or around that price range. You can use public transport, and eat at local markets to save money. We recommend booking tickets online to secure your entry.
What should I see in Florence?
In a short weekend trip to Florence, we do recommend checking out the iconic Duomo, and the central area of Firenze. Pick 1-2 art museums that interest you. Don't forget cuisines – eat gelatos, dine in a nice restaurant and enjoy your trip!
What is the best location to stay in Florence?
We recommend staying at the Florence city center for a short visit. This is the medieval and Renaissance centrum of Florence, and from here you can easily explore the Duomo in the north and the River Arno and Ponte Vecchio in the south.
I hope this itinerary for a weekend in Florence, Italy provides a memorable trip. These are the places I've been recommending to my family and friends for years. If you're like me, I'm sure you'll be planning your return trip after falling in love with Firenze!
About the Guest Writer: Ashley is the owner and creator of Abroad with Ash. After leaving a career in finance, Ashley began focusing on her travel blog where she provides beneficial advice and insights through firsthand experience, itineraries, city guides, and top 5 lists to help others plan their next adventure. She currently resides in Texas and has a healthy obsession for coffee shops, travel deals, gelato, and Harry Potter.
Pin: 2 day itinerary to Florence Italy