2 days in Berlin Itinerary: Perfect Weekend City Break
Berlin is the capital city of Germany and is known as the ultra-cool city on travelers' journeys around Europe. Berlin is deep-rooted in history, has incredible architecture and urban attitudes that are portrayed through the city's street art, clubs and people. In this 2 days in Berlin itinerary you will discover the top attractions that Berlin has to offer as well as some unique experiences.
2 days in Berlin Itinerary: Berlin Trip Planning
Disclosure: This post contains affiliate links. If you click one of them, we may receive a small commission at no extra cost to you. Also, note that this is a guest post submitted by a contributor. 
As mentioned, Berlin is the capital city of Germany, a European Union member. Here are some important travel tips and information about Berlin
Planning a trip to Berlin Travel Tips
2 Day Berlin Itinerary
Day 1 of 2 Day Berlin Itinerary: Reichstag, Potsdamer Platz, Brandenburg Gate, Memorial to the Murdered Jews of Europe, Bürgermeister Schlesisches Tor, Checkpoint Charlie, Kreuzberg Markthalle Neun
Day 2 of 2 Day Berlin Itinerary: East Side Gallery, Museum Island & Berlin Cathedral, Gorlitzer Park, Culinary Tour, Berghain
Getting to Berlin Germany:
Berlin is served by the Berlin Brandenburg Airport, and you can arrive here internationally from North America and anywhere else in the world.
The distance from Berlin Brandenburg Airport to the city centre or Alexanderplatz is about 27 kilometres or 16.8 miles. You can arrive by car in 45 minutes.
You can take the train from BER Airport (Terminal 1-2 Station) to Alexanderplatz. It takes 34 minutes and costs about 2€ – 9€. You can also use the bus services line 070. It costs 4€ – 6€ and takes longer than a train ride at 46 minutes.
Highly recommend getting the EasyCity Pass Berlin for 2 days. It allows you to use public transportation for the duration, as well as discounts on other attractions. This is a cheaper alternative to the Berlin Welcome Card.
Where to Stay in Berlin
Berlin is made up of 12 districts but getting around will not be a problem whichever area you stay in, even if it's outside the city's core 12 neighbourhoods, because the transport in Berlin is reliable and efficient.
For this 2 day Berlin itinerary, the areas of Friedrichshain, Kreuzberg or Neukolln are the best options because they are in walking distance of clubs, tourist attractions, parks and everything else on the itinerary can be reached by taking the public bus or train (known as the U-bahn or S-bahn).
Kreuzberg is known as the most diverse and hip neighborhood in Berlin and staying in this area fits perfectly with this 2 day itinerary for Berlin.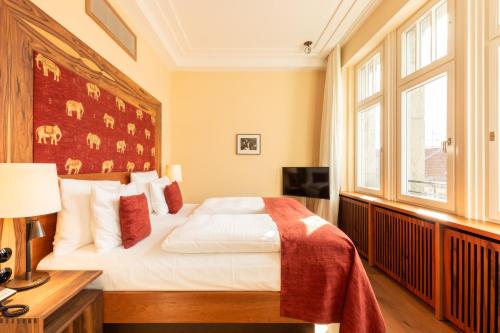 Hotel Orania Berlin: This luxury hotel is located in the neighborhood of Kreuzberg – in the vibrant district with Bergmannkiez shops, Görlitzer Park, and Turkish restaurants near Kottbusser Tor. The iconic Brandenburg Gate and Eastside Gallery are less than 5 minutes away. Check availability here
Michelberger Hotel: Located in the Friedrichshain neighborhood, close to the Eastside Gallery, this hotel is great if you wish to be within walking distance to the city's major attractions and bars, and restaurants. Rooms are precious, and they come with kitchens. Check rooms and availability here
Need more hotel options? Search for hotels here
Berlin Tour Recommendations
One of the best ways to see Berlin is on one of the many walking tours around the city. Here are a few of the recommended tours
In addition, you could get a city pass to use some tourist buses and entry to museums in Berlin. Most landmarks, however, are usually free, especially the majority listed in this itinerary.
Day 1 of 2 day Berlin Itinerary: Reichstag, Potsdamer Platz, Brandenburg Gate, Memorial to the Murdered Jews of Europe, Bürgermeister Schlesisches Tor, Checkpoint Charlie, Kreuzberg Markthalle Neun
Start your morning with a traditional breakfast
With so many places for breakfast and brunch, you're sure to find a spot to fuel your day of walking!
Traditional European breakfasts consist of breads and spreads but a good way to save time looking around is to get accommodation with breakfast included.
This 2 day Berlin itinerary kicks off with exploring the top attractions in the city. You can join a free walking tour or follow this itinerary for a self-guided tour of the first part of this itinerary.
All within close proximity of one another, you can visit the following sites in Berlin within walking distance and at whatever pace suits you, so if you'd prefer to take it slow, maybe re-visit a site later on in the day.
Reichstag
The Reichstag is an impressive Berlin landmark and is currently the home of Germany's parliament. If you visit, you'll see why it's the second most visited attraction in Germany (behind the Cologne Cathedral).
Entry is free but book tickets online in advance for your slot. There is a lovely grass area in front of the building where you can sit and marvel at the grand architecture including the glass dome at the peak of the Reichstag.
Recommended tour: Third Reich & Cold War tour
Potsdamer Platz
A feature of many charming cities in Europe that hooks any first-timer in Amsterdam or a student on a school trip to Venice, for instance, is the square area in the centre. Berlin's square is called Potsdamer Platz which is an area made of shopping, cinema, the fastest lift in Europe (Panoramapunkt) to the top of the tower, and many educational museums.
Get a coffee and a cake from a nearby cafe to hook you in this city. A small feature of the Berlin Wall can also be observed here.
Brandenburg Gate
Brandenburger Tor (Brandenburg gate) is one of the most iconic images in Berlin city. An image, also, of division in the Cold War, it was in close proximity to the Berlin Wall.
When visiting, check if there's anything happening as it's often served as a backdrop to events. When I visited, it was the Fifa World Cup and the entire road in front of the Brandenburg Gate was transformed into areas to view the matches, street food, bars, and games.
Memorial to the Murdered Jews of Europe
Also known as the Holocaust Memorial, this outdoor museum is made up of grey concrete slabs and is a place of respect and remembrance for the millions of Jews who lost their lives in World War II.
Entry is free but times are limited. Be sure to check the Visit Berlin website for updates on the museum and other attractions listed in this post.
Bürgermeister Schlesisches Tor
There is one place you have to have lunch in Berlin and that's Burgermeister Schlesisches Tor for one of the signature burgers. It may be a whole century old and a former toilet but it's honestly one of the best burgers you will try.
There's always a queue outside whatever time you arrive so allow yourself time to queue, order and wait. Luckily, the cake from earlier should keep you going.
There aren't lots of seats so you may just be perched on the edge and the entire place is underneath railway tracks which makes for a unique dining experience.
Afternoon – Checkpoint Charlie
When Berlin was divided into East Germany and West Germany, Checkpoint Charlie was one of the, and the most famous, gateways for foreigners between the two.
Charlie is the word in the NATO phonetic alphabet for C, and there were also other checkpoints of A and B (Alpha and Bravo respectively). A lot of history occurred at Checkpoint Charlie including successful escapes, escape attempts, deaths and stand-offs.
Very close is Checkpoint Charlie Museum, an outdoor, free exhibition with many stories about all the aforementioned.
I highly recommend taking a few hours to read and learn about the harrowing and interesting period of history, especially to see photos of that triumphant night in November 1989 when the wall was torn down and people freely walked through the Checkpoint after it was (mistakenly) announced that restrictions into West Germany were lifted.
Evening – Kreuzberg Markthalle Neun
This evening, head to Kreuzberg for a special night enjoying street food in the local market. As the sun starts setting, grab a beer from one of the local stores and enjoy on the street before the Markt Halle opens.
Recommended Tour: Alternative Berlin Tour
Kreuzberg Market is a lesser-known indoor market in Berlin but a true secret wonder. The street food you can enjoy for dinner in this market portrays the diversity of Berlin so you can enjoy an array of food on communal tables amongst the chaos that comes with markets like Kreuzberg Markthalle. Read this guide to Kreuzberg Markthalle Neun for more information and an idea of what to eat at the market.
Finish the first day by visiting Captain's Beach, a beach bar in Kreuzberg, just a 10-minute walk from the market.
Beach bars are popular in Berlin and as soon as the sun comes out, Berliners flock to ones dotted around the city such as Capital Bar next to the river, perfect on a summer's evening (and even better at the weekend when the DJ's come out at night).
Day 2 of 2 day Berlin Itinerary: East Side Gallery, Museum Island & Berlin Cathedral, Culinary Tour, Berghain
The first activity of the day is located near River Spree so be sure to grab some breakfast on your way to the East Side Gallery or pick up some local produce to enjoy on the water's edge.
East Side Gallery – Berlin Wall Memorial – East Berlin
The Berlin Wall Memorial is the central memorial of German division located at the historic site on Bernauer Strasse. This divided the country into East and West Germany during the Cold War.
What was a divisive wall in the past, is now an open air gallery.
Exploring the East Side Gallery was one of my favourite things to do in Berlin. Spanning over 1.4 kilometres or .86 miles of the former border strip, this is the longest remnant of the Berlin Wall, which staunchly stood in Berlin for 29 years as a reminder of the division during the Cold War.
People reacted in several ways to the collapse of the wall in 1989, and art is always an expression of the people. Artists took to what is now the East Side Gallery, the world's largest, free, open-air mural, to create visions, political statements and paintings in memory.
It is an unmissable sight to visit in Berlin to walk the length of the mural and appreciate the art while gaining an understanding from locals about life and politics of the era.
Museum Island & Berlin Cathedral
Berlin's Museum Island is located on the northern part of the Spree Island. It is about a 10-11 minute train ride from the Eastside Gallery.
The complex is a grand work of art: five world-famous museum buildings from the time of the Prussian rulers, along with the modern James Simon Gallery.
This entire complex is a UNESCO World Heritage Site (awarded in 1999).
If you only have limited time, do make a trip to the Neues Museum and Pergamon Museum at the Island.
Berlin Welcome Card includes free transportation, as well as entry to all the museums at the Museum Island.
Located closely is the iconic Berliner Dom (about 8 minute walk). The Berlin Cathedral is the largest and the most important Protestant church in the city. The construction of the cathedral was completed in 1905. It was also the site of dynastic tomb on the Museum Island in Berlin.
Afternoon – Famous German Things + Culinary Tour
You can't visit Germany's capital without trying the cliche German things. On your final afternoon in Berlin, you'll be trying a famous German snack, or a local specialty and sampling one of the country's treasures: a stein of beer, of course!
A currywurst snack is one of my favourite things in Berlin because it's so unusual yet so genius. German sausage is renowned as delicious so there's no doubt that their hot dogs will be good too. But the secret to the currywurst that differs from a bratwurst? Tomato sauce and curry powder. Yes, you heard right. That's how Berliners do fast food and I'm here for it.
Beer is deep-rooted in German culture and there are so many local beers to try in Berlin. I particularly enjoyed a Pils type of beer from a bottle and from the draught and the latter is certainly an experience to be had in a German pub or a famous Bavarian beer hall known as a Hofbräuhaus with wooden benches in a large hall.
Berliner Luft is a unique Berlin must-do. Known locally as Berlin Air, this is a refreshing shot of peppermint liquor that is perfect on the palette whatever your activity in Berlin may be that day. I tried this in a local Kreuzberg bar from one of the bar staff after they'd spilled a drink over my partner and we all took a shot as an apology from them and a 'prost' (cheers) for the rest of the night. Everything was in good spirits and we took away a good memory.
If you prefer to hang out with a local and check out German delicacies, then consider joining this Kreuzberg: Culinary Food Tour
Evening – Club Culture in Berlin
Berlin has a huge club culture, so much so that it's the main reason to visit Berlin for party-goers.
The bars and clubs are world-renowned in Berlin and often the lines differentiating pubs/bars/clubs are blurred because the city never really sleeps. You could be eating your breakfast somewhere and before you know it you're listening to a world-class DJ.
Berghain is the most famous club for electronic dance music to visit in Berlin and one of the most famous clubs in the world. It's become a bucket list experience for many clubbers because of how hard it is to get into the venue and if you're lucky enough to get in, you are not allowed to take pictures and a lot of people end up staying there for several days.
The building was an abandoned power plant in the 1980s until 2004 when two friends transformed it into what it is today. I wouldn't even try to get in but I love the mystery that surrounds the escapade of queuing, attempting to get in and the weekend-long event inside!
If you're brave enough to give it a go, it'll be well worth the trip but you're going to need way more than 2 days in Berlin.
I had one of the best experiences that was totally random on a Berlin evening. I was queuing for one promoted night in a large club but the queue wasn't a very nice vibe and mostly tourists so as I was walking to get a taxi home, I heard some music coming from a fairly hidden club next to the river. I found the club with no queue and tried to gain entry and was successful.
The club was so cool with a few different, small rooms and a breezy outdoor area of decking right on the river Spree. I only found out the name of the club when I returned home, which is Club der Visionaere. Very Berlinerisch.
Other things to add to your Berlin Itinerary
Here are some of the most popular landmarks in Berlin, which you can swap for any of the activities listed above.
Berliner Fernsehturm or Fernsehturm Berlin: If you love city views, head to the top of the Berlin TV tower. For $23 USD, you take an elevator to the top and soak in mesmerizing views. This is perfect for the evening on either day. You can finish the night with dinner at the tower.
Kaiser Wilhelm Memorial Church: Located close to the city center is another Protestant Church – Kaiser Wilhelm Memorial. The ruins date back to the damages caused during World War II bombings, and it served as a symbol of the destruction of war.
Charlottenburg Palace: Built for Sophie Charlotte, Queen consort in Prussia, the stunning rococo Charlottenburg Palace is considered one of the finest in Berlin.
Gorlitzer Park: Staying in the Kreuzberg district is quaint Gorlitzer park where you can take this part of the morning to relax and reflect on the largely history-based day you encountered yesterday and this morning. Reflection and acknowledgment of history is a good way to spend an hour of any trip and just enjoy a moment of not doing anything before moving on to more exploring. Add this on day two of the Berlin itinerary after East Side Gallery
Day trips from Berlin: Ideas for 3 day Berlin Itinerary
When in Berlin you can easily extend your trip, and explore more of Germany or nearby European countries.
Berlin is a central hub to the rest of Germany and, with the reliable public transport systems, you can travel to almost everywhere else in the country. In addition, you can visit other places in Europe from Berlin too. The closest cities include Prague, Krakow, and Vienna.
Here are some day trips from Berlin to add to your itinerary,
Berlin Sachsenhausen Memorial Day Tour:
Visit the memorial site at Sachsenhausen, one of the main concentration camps of Nazi Germany. It is located about 20 miles north of the city center. In this 6 hour day tour, you will learn why Sachsenhausen was created and why the Nazis developed the concentration camp system. Plus hear stories from the camp. Click to book this tour.
Dresden:
Dresden was the royal residence of the Saxon Kings. It is still considered one of Germany's most beautiful cities. On a quick day trip, you can explore the restored Old Town and Old Market, including the famous Church of Our Lady (Frauenkirche), the Semper Opera House, and the Balcony of Europe – once Dresden's defensive rampart on the River Elbe. You can book a day tour here
Navigating the streets of Berlin: Transport Passes
Berlin has a great transportation system. You don't need to rent a car for a city break to Berlin. If staying in and around the city center, you can pretty much walk to the prime attractions.
Other than walking and day tours, you can buy a transport savings card to access discounts on trains and buses (hotels, sightseeing, day trips, airport transfers, etc).
Berlin Welcome Card is a popular transport pass. It allows you free rides on public transport and gives you access to a lot of museums, including the entire Museum Island. This card is good for 3 days, so if you are heading out of the city on day 3, you can use it to head to the airport or connect to another city. Click to find more information here
EasyCity Pass Berlin is valid for 2 days and is a cheaper alternative. It includes the use of public transportation in S-Bahn, subway, bus, tram, regional train.
What to pack for a weekend trip to Berlin
Here are some essential items to pack for your trip to Berlin,
Anti-theft day pack or handbag: Carry a daypack or a hobo to store and safeguard your belongings from pickpockets. Anti-theft bags are equipped with anti-slash and RFID technology. Here is what we recommend – click for the backpack AND here for the handbag.
Universal Adaptor: Buy your adapter here to charge electronics
Power Bank: To charge electronics on the go. Buy yours here
Comfortable walking shoes: With so many great sights in Berlin in close proximity, be sure to have comfortable walking shoes and clothes.
Outfits: Smart, clean-cut trousers, shirts/tops (without any logos)
If traveling in the winter, don't forget to carry winter wear like a wool coat, boots, scarf, gloves, and a nice warm hat
For off-season visits (fall and spring), add a warm cardigan and a scarf
Sightseeing Map with stops for 2 day Berlin Itinerary
Additional Travel Tips: Berlin Itinerary 2 days
Is 2 days in Berlin enough – Can you do Berlin in 2 days?
2 days is a good introduction to Berlin but the city has so much depth that 2 days is not near enough to fully grasp the wonders of this place. There's also so much to do in Germany and other places beyond Berlin that make up the country like the vast Black Forest, Bavaria with its unique culture, the Disney-like castles and fairytale towns.

As with most capital cities you could spend well more than 2 days in Berlin but this itinerary will ensure you get a taste of Germany and an insight to Berlin culture.
What should I not miss in Berlin?
Definitely visit the iconic landmarks if this is your first time in Berlin – Reichstag, Potsdamer Platz, Brandenburg Gate, Eastside Gallery, and then hit a bar (or two) and enjoy the cuisine.
Is Berlin expensive to visit?
Berlin is a fairly expensive city (as expensive as most major cities in Europe, if not more) but the advantage of this Berlin itinerary is that a lot of the attractions are free. Many of the walking tours listed here are as low as $20 USD. 

But you can do fancy with a dinner at the Berliner Fernsehturm or at a fancy restaurant bar. Or stay at a luxury hotel! 
Is Berlin safe for travelers?
Berlin is safe for travelers – for solo, couples or family trips. As with every other major city in the world, be wary of pick-pocketers, scams and general safety around tourist attractions and busy bus/train stations.
Tipping in Berlin
When eating or drinking out, tipping is expected in Berlin but not always automatically added to the bill so be mindful of extra costs.
So are you ready for Berlin? Berlin is certainly the best area to start your Germany travels because it is welcoming, unassuming and allows you to be who you want while enjoying the juxtaposition of uber modernity and harrowing history. 
About the Guest Writer: Shireen is the owner of the travel blog The Happy Days Travels, which focuses on staying local while travelling through itineraries, books and food. Her favourite things to do while travelling is tasting local cuisines, meeting locals and travellers alike and absorbing a novel in a scenic spot. She grew up near the sea so she is always looking out to the ocean when travelling, as she truly feels at home. Follow her on Facebook | Instagram | Twitter | Pinterest
Pin for later: What to do in Berlin in 48 hours? An epic Berlin 2 day itinerary